Working from home is something which we're all doing a bit more of. Even before the global pandemic of Spring 2020 hit, companies were realising that allowing people to work from home had a lot of benefits. Working from home one or two days a week is fairly common. Working at home full-time is perhaps less common. However, technology makes it easier than ever to link up with the office over video conferencing or file-sharing apps. Having more people working at home allows employers to reduce office size, and their overheads. If you're thinking about making the move to working full-time from home, what are the implications for DBS certificates?
What is the law about DBS certificates for working at home?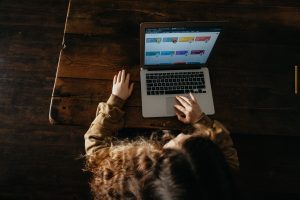 The law is fairly clear when it comes to home working and disclosure checks. The job is what determines what disclosure check – if any – is required. The actual location of the person doing the job doesn't matter. For example, if you're a social worker based at home and going out to visit clients, you'll need an enhanced disclosure. This is exactly the same as it would be for a social worker based in an office instead. Most employers are up to speed with these requirements. They will also know that it's illegal to ask employees to have a disclosure check which doesn't match with the type of job they are doing. In practice, it's unusual for employers to push for an unnecessary disclosure check. That's because applying for a DBS check costs money, and no employer wants to spend money when it's not strictly necessary.
Difficulties in applying for DBS certificates from home
Although the legal position is clear for people working at home, the application process often poses a few more issues. There is no different process for remote workers. However, there are certain aspects of the normal process which can be tricky to navigate at a distance. The main difficulty is not having help immediately on hand should you be unsure about what to put on the form. Yes, you can pick up the phone or send an email, but it's often not as immediate as just walking through the office and asking someone.
The other main issue is at the stage of proving your identity. If you were in the office, you would bring your passport, utility bills and other identity documents into work with you, and show them to the approved person who manages the DBS process. If you're working remotely, you can't just skip the identity verification process. There are ways around it, but these will take longer. You could make a trip into the office to show your identity information, which might be the best option depending how far you need to travel. If the office is too far away, the other option is to send your original documents through the post, and log into Skype or another video conferencing app so the person in the office can match you to the photos on the identification.
Self-employed, DBS checks and homeworkers
Many people who work at home are self-employed, and don't have an employer to go through for a DBS check. In some cases, these self-employed people may still be able to get a standard or enhanced disclosure. This would apply to someone working as for example a physiotherapist, who could apply through their governing body as a self-employed person. However, most people working at home aren't in this situation and their choices may be limited.
Most self-employed people are limited to getting a basic disclosure check. These aren't a second-rate form of disclosure but do show a different level of detail. A basic disclosure is a statement of your current and unspent criminal record only. It won't include very old offences or cautions, unless for something very serious. However, a basic disclosure certificate demonstrates you have no offences in the recent past. Many self-employed workers use it as a character reference and a way of proving to clients that they are trustworthy. Just as important are references from people you've worked with in the past, and word of mouth recommendations. DBS legislation can change over time, so check the DBS website regularly for updated information regarding home and remote workers.