If you're interested in making a difference to your local community, what about the Special Constables service? This is voluntary service with a difference. Specials, as they're commonly known, get involved with all aspects of policing. They work alongside the regular police. No two days are the same for specials, and it could be the perfect opportunity for you if you like being outside, helping the general public. All police forces recruit special constables, so if it's something you've thought about, here's what you need to know.
Requirements for Special Constables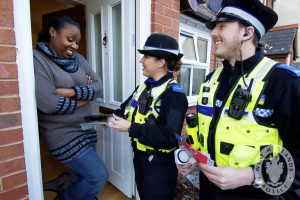 Being a special isn't for everyone. It's a popular choice for people who want to volunteer, so there are minimum entry requirements. People who are from any of the European Economic Area countries can apply, as can people with leave to remain in the UK. This might change after Brexit. You must be at least 18 years old. Some areas have police cadets for younger volunteers aged between 10 and 18. Whatever your nationality, being able to speak, read and write English fluently is essential. Applicants also need a good level of physical fitness.
Most police forces which recruit special constables also ask for people of "good character". This means the police use background screening ro weed out applicants with a long criminal record. This process is similar to getting a DBS check. Recruitment is handled by each police force, so check out your local force's recruitment page to see how to start your application.
Some occupations are blocked from being volunteer police officers. These are mostly jobs connected with the court and police service, such as bailiffs, magistrates and prison officers. Most NHS and fire brigade service are blocked from applying too.
What do Special Constables Do?
No two shifts are the same when you're a special and that's what people like so much about the role. It's important to remember that this is a voluntary position, and you won't receive a salary. Specials commit to a minimum of four hours per week on shift. The actual job you're doing could include helping out at the scenes of accidents or at a major sporting event. Other specials might go into schools and talk to children about policing. Crime prevention is a big part of the role, either through foot patrols or public education. Specials also sometimes get involved in directly tackling and investigating crime. You won't be doing all of this on your own. Specials are matched up with fully qualified and trained officers, or community support officers. There's lots of information online about what special constables do, and stories about why people volunteered.
Do Special Constables get paid?
Being a special constable is a voluntary role, so there's no salary. However, that doesn't mean you'll be out of pocket. Specials don't pay for their training. Some training is classroom learning about the law and police procedure, along with a group of other new recruits. Pass your training, and then you are matched with an experienced officer for on the job learning. You will be given a uniform, and will have a lot of flexibility over where you work. Most police forces will also pay travelling expenses. You can claim back a set fee per mile if you travel to shift by car, or your public transport fares. Special constables have all the same powers as a regular officer. You don't need a driving licence to be a special, although it's always worth mentioning it if you do.
Advantages of Volunteering
The main benefit to volunteering is always paying something back to your local community. However, there are lots of other good reasons to become a special too. It's a good way of getting a taste for police work if it's a career you are considering in the future. Also, skills like communication and conflict resolution will be useful when you apply for any job. It's interesting and varied work, and will help you keep fit too. You'll also get to know a lot of new people, both in the police and wider community.
If you're looking for something more interesting to do at the weekend, why not give your local police service a call? Before you know it, you could be out there on the front line.