Are you at a bit of a loose end and looking for something interesting to do in your spare time? What about volunteer driving opportunities? If you've a full driving licence, then there are a whole host of charities who are desperate for your help. Here's everything you need to know about getting a voluntary position, and what sort of tasks you could be doing.
What types of organisations have volunteer driving opportunities?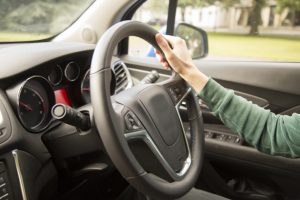 There is a huge range of charities and other organisations which need help with driving. Most opportunities involve elderly or ill people. You could be taking the pressure off the ambulance service by helping someone attend routine hospital appointments. Other drivers work on an ad-hoc basis, picking people up and taking them to activities or events. If you're confident with driving larger vehicles, you could help out delivering stock to charity shops, or collecting larger donations from people's homes. Animal charities also use a team of volunteers to pick up rescued animals, and take them to hospital. Whatever your interest, there is some sort of voluntary organisation which is crying out for your help. But finding out who needs help is just the first part of the process. You can't just pitch up and start driving; there are a few checks you'll have to pass first.
Do I need a disclosure check?
There's no simple answer to this one. You will only have to apply for a disclosure check if the job falls into specific categories. If you are going to be picking up elderly people from their homes and taking them to a day centre, then an enhanced disclosure is appropriate. This is because the job means you'll be on your own with potentially vulnerable adults. An enhanced disclosure looks into your full criminal history. The aim is to weed out any people who are not volunteering for the right reasons, and who might pose a danger to passengers in their car. Usually, adverts for voluntary positions will clearly state whether a DBS check is required. Staff within the charity will be happy to help you through the DBS process and give you all the advice and support you need to complete the application. And the good news is that volunteers don't pay for a DBS check in recognition of their free work and contribution to the charity.
If you're going to be doing other tasks, you might not qualify for an enhanced disclosure. Enhanced disclosures aren't needed if you're going to be working with animals, or picking up stock in one charity shop and transferring it to another. Charities might however ask for a basic disclosure instead. This level of check will only show current, unspent convictions. It will be down to the policies of the individual charity to determine how to proceed. Most charities are inclusive and welcoming. Having a minor conviction in your distant past shouldn't rule you out from applying for a volunteer driving role.
Other Checks
Irrespective of whether you need a disclosure check or not, no charity is going to let you loose on the roads if you're not safe to do so. You will need a full driving licence, not a provisional. If you're going to be driving a van rather than a car, the charity will want to check that your licence covers that type of vehicle. You may be asked to sign an agreement which states you'll tell them if you get any points on your licence.
There's also the thorny issue of car insurance. Again, there's no straightforward answer to whether you'll need additional insurance or not. Some insurers will cover a few hours a week of voluntary driving on your standard policy. Others will charge extra. Don't assume you know the situation though, call up and ask. If you are going to be driving for longer periods, in a role which takes you onto the roads for several hours a day, that may be a different matter. Charities may be willing to help with any extra costs.
If you are being provided with a vehicle such as a van for your role, then you shouldn't have to worry about insurance. That will be organised by whoever owns the van.